Buy It:
Apple Books
Publisher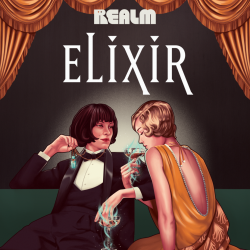 "If the Great Gatsby were about lesbians with magic."
In this Prohibition-era inspired fantasy, cocktails known as elixirs grant anyone who drinks them magical powers. But they've recently been made illegal.
Vera Reeves runs a hush bar (aka a magical speakeasy) which has been in her family for generations. After her father gets arrested for selling elixirs, Vera vows to keep the bar—and the family legacy—alive. Even if it means she and her big brood of cousins must turn to a life of crime.
Elsie comes from a well-to-do socialite family, where she's spent a lifetime hearing about the dangers of elixirs. Not only that, but Elsie has seen the damage firsthand. Her older sister struggles with an addiction to magic, and Elsie blames everyone who sells elixirs for it.
But when Elsie's sister goes missing, Elsie has no choice but to follow her trail… straight into Vera's bar.
A mystery with star-crossed lovers at its heart, ELIXIR follows two women from completely different walks of life who know that falling for one another would be a terrible idea. But it's still tempting…
If you like: Roaring 20s, speakeasies, fantasy drag shows, big morally gray families doing crime together, all-LGBTIAQ+ casts, or if you just want to escape reality for somewhere with a bit more magic, check out ELIXIR starting June 3rd!
(published by Realm.fm, soon to be available everywhere you get your podcasts)