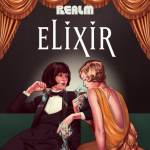 ELIXIR
In this Prohibition-era inspired fantasy, two women from opposing sides of a ban on magic unite to solve a mystery, and end up falling into forbidden love.
Featuring a dapper lesbian speakeasy owner, a bi socialite, fantasy drag shows, big morally gray crime families, the mystery of a missing sister to solve, and star-crossed f/f lovers, Elixir is your escape into a Roaring 20s-style world of intrigue and romance.
Coming June 3rd to all podcast platforms!


May 13, 2021
I have always prided myself on being a fast writer. My speed allowed me to begin writing full-time before my debut novel was published, thanks to a series of ghostwriting and work-for-hire…
READ MORE
March 22, 2020
It doesn't come up often in the perfect Instagram shots, the #livelaughlove tags, the cutesy captions. Even when I'm talking to friends back home in person, recounting my trips, I hardly…
READ MORE


Get updates on new stories. Follow along as I write and travel around the world.