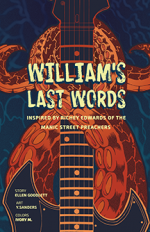 William's Last Words
For William, music is an escape from a life he wants to forget. But he soon learns that you can't escape your true nature—especially when the demons chasing you come from within.
Ellen Goodlett and Y. Sanders will get under your skin with "William's Last Words," inspired by Richey Edwards of the Manic Street Preachers.
Part of Red Stylo's 27: A Comic Anthology


January 17, 2017
Trying to speak Spanish after 10 years without using it is a constant exercise in humility. One moment I'm having an in-depth conversation with a doctor about switching medications from…
READ MORE
January 10, 2017
I haven't been at the freelance bit long (just over 2 weeks full-time), but I am already starting to notice things I'll miss about working a regular 9-5 office job. Nothing earth-shattering, just…
READ MORE


Get updates on new stories. Follow along as I write and travel around the world.