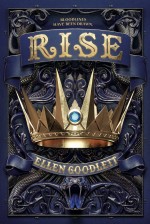 Rise
Sisters Akeylah, Ren, and Zofi are all a step closer to their dying father's throne, a step closer to the crown that will allow one of them to rule over Kolonya. But the sisters' pasts continue to haunt them. Each hides a secret marked with blood and betrayal, and now their blackmailer is holding nothing back. When King Andros discovers the sisters' traitorous pasts, the consequences will shake the entire kingdom to its core.


February 27, 2019
I've got some really exciting book appearances coming up this spring, so if you're in any of these cities at the right time, please come and say hi: March 23rd @…
READ MORE
September 6, 2018
Holy crap you guys. So this year has FLOWN by, and somehow (I suspect time portals were involved) it's already September, which means that as of my writing this, in…
READ MORE


Get updates on new stories. Follow along as I write and travel around the world.