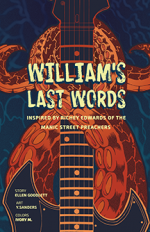 William's Last Words
For William, music is an escape from a life he wants to forget. But he soon learns that you can't escape your true nature—especially when the demons chasing you come from within.
Ellen Goodlett and Y. Sanders will get under your skin with "William's Last Words," inspired by Richey Edwards of the Manic Street Preachers.
Part of Red Stylo's 27: A Comic Anthology


June 6, 2017
From the minute I read about Remote Year, I knew I needed to do it. In typical me fashion, I pretended to debate for a while, batted around pros and…
READ MORE
May 1, 2017
There are a lot of articles out there about what and how to pack for the insanity that is Remote Year. Some have good tips—advice on how to keep your luggage…
READ MORE


Get updates on new stories. Follow along as I write and travel around the world.