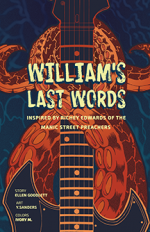 William's Last Words
For William, music is an escape from a life he wants to forget. But he soon learns that you can't escape your true nature—especially when the demons chasing you come from within.
Ellen Goodlett and Y. Sanders will get under your skin with "William's Last Words," inspired by Richey Edwards of the Manic Street Preachers.
Part of Red Stylo's 27: A Comic Anthology


February 2, 2017
At the end of each month this year, I'm going to tally up my expenses in order to evaluate the costs of living in each city we're visiting. A month…
READ MORE
January 26, 2017
Coming to Mexico, I knew there would be delicious tacos aplenty. Those certainly didn't disappoint. Every taco I've eaten has been tasty, from the ones sold in street carts outside…
READ MORE


Get updates on new stories. Follow along as I write and travel around the world.