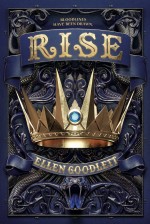 Rise
Sisters Akeylah, Ren, and Zofi are all a step closer to their dying father's throne, a step closer to the crown that will allow one of them to rule over Kolonya. But the sisters' pasts continue to haunt them. Each hides a secret marked with blood and betrayal, and now their blackmailer is holding nothing back. When King Andros discovers the sisters' traitorous pasts, the consequences will shake the entire kingdom to its core.


March 22, 2020
It doesn't come up often in the perfect Instagram shots, the #livelaughlove tags, the cutesy captions. Even when I'm talking to friends back home in person, recounting my trips, I hardly…
READ MORE
March 13, 2020
In what feels like 5 years worth of breaking news compressed into a week, Coronavirus has officially been declared a pandemic, the entire NHL got suspended, Europeans can't fly to…
READ MORE


Get updates on new stories. Follow along as I write and travel around the world.