Buy It:
Amazon
Publisher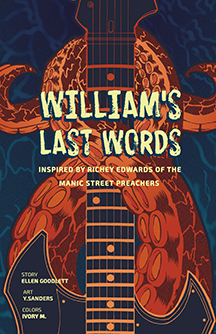 For William, music is an escape from a life he wants to forget. But he soon learns that you can't escape your true nature—especially when the demons chasing you come from within.
Ellen Goodlett and Y. Sanders will get under your skin with "William's Last Words," inspired by Richey Edwards of the Manic Street Preachers. Part of Red Stylo's 27: A Comic Anthology
27: A Comic Anthology, inspired by music's infamous '27 Club' and edited by Enrica Jang, features the art and writing of 54 collaborators.
Members of the '27 Club' reached musical stardom early in life and died too young- specifically, the tender age of 27. Some of the club's more famous members include Jim Morrison (The Doors), Janis Joplin, Jimi Hendrix, Kurt Cobain (Nirvana), and Amy Winehouse, among many others."