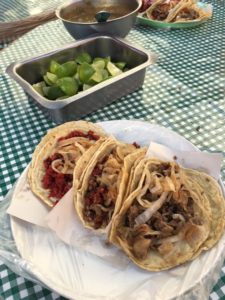 Coming to Mexico, I knew there would be delicious tacos aplenty. Those certainly didn't disappoint. Every taco I've eaten has been tasty, from the ones sold in street carts outside our office to the ones you can buy from guys who ride around the city on bikes ringing a bell to let you know they have tacos (sadly, this is not where Taco Bell got its name, but I like to pretend).
Most of the street tacos run somewhere from 10-50 cents apiece. A local explained to me that "you can tell the best taco places by the size of the meat roasting out front," because the taco stands with the largest hunks of meat over the grill were expecting the
most customers. On the other hand, if you prefer fancy tacos, you can try them at local restaurant chains like El Califa, which will run you more like $1.50-3 each (I know, gasp).
There's also chilaquiles of course. The best I found were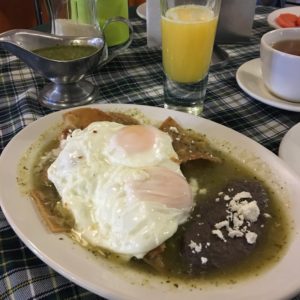 right next to my apartment at Café el Asturiano, a hole-in-the-wall with a 70 peso ($3.50) breakfast menu that includes red or green chilaquiles (get the green), fresh fruit, fresh-squeezed juice, fresh-baked bread and a tea or coffee.
What I did not expect was the rest of the food. The weird-but-worth-trying Mexican sushi at Moshi-Moshi (most of the rolls include cheese, mango or both); the salads, acai bowls and duck pate sandwiches so rich you have to eat them with a glove at Corredor Salamana, an open-air cafeteria-style restaurant/bar/cafe/ping-pong/hookah lounge where we wound up more nights than we ought to admit.
I ate the best ceviche I've ever tried and followed it up with a rich, spicy hot chocolate at Mercado Roma; sampled crepes and waffles at the aptly named Crepes y Waffles; fell in love with pozole, a rich stew-like soup, at La Casa de Toño (great hangover cure, by the way).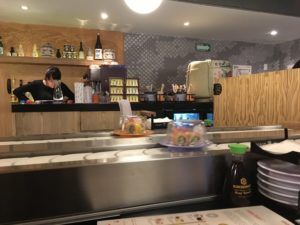 The Mexico City restaurant scene rivals New York's, in my amateur-foodie opinion. There are fantastic seafood restaurants like Contramar; up-and-coming vegan delivery spots like Los Loosers, which changes its menu daily (it was mole ramen the day I went); and three of the top 50 restaurants in the world. A lot of the people I'm traveling with raved about Biko and Quintonil, two of those, but I only tried Pujol. It was a uniquely delicious experience, and I loved everything from the baby corn cooked in chicatana ant sauce to the mole madre (which had been cooking for 1,185 days when we went). The humorously-named Happy Ending was delicious too—a dessert course comprised of avocado ice cream, churros, coconut pastry, and some kind of chocolate-y beverage. If the other two top restaurants are anything like Pujol, holy crap, I need to come back to Mexico City ASAP and eat there too.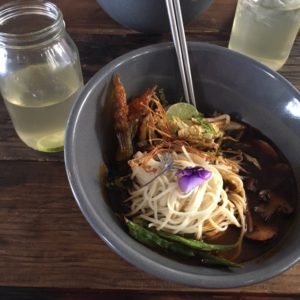 My trip wasn't all fine-dining though. There was the mysterious torta I bought from a guy with a bucket of sandwiches on a bus to Angangueo (definitely an interesting experience, but not recommended), and the street flautas which were delicious but difficult to eat, considering the only utensil the cart vendor gave me was a spoon. We cooked a traditional Carne Asada on the rooftop of my local Spanish teacher's apartment, and then I got sick (probably from too much red meat in one day). One night we had the brilliant idea to go to a rooftop bar for the scenic view and supposedly famous burgers. Unfortunately, not only was it freezing that night, but we also waited two and a half hours for an extremely rare (read: still frozen inside) burger.But overall, the less-than-savory (haha see what I did there) experiences were anomalies, far outweighed by the delicious ones. For example, I ate the best Caesar salad I've ever tasted in an airport sports bar while awaiting a flight to Cuba—the waiter hand-mixed the sauce right at our table, complete with fresh anchovies.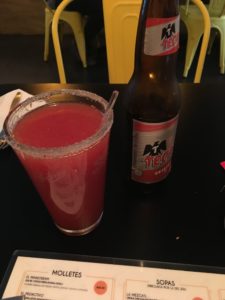 And of course, I can't rave about the food without mentioning the drinks, too.
Between the clamatos (the beer-based version of a Bloody Mary) at Juan Molletes; the micheladas and cubanas (beer mixed with lime juice and Worcestershire sauce respectively) at La Cervecería del Barrio; the gin-and-rose cocktails at Gin Gin; and every type of mezcal you could ask for (either neat or mixed into perfectly-balanced cucumber and avocado cocktails) at La Clandestina, a speakeasy in the back of La Lavandería in Condesa, Mexico City's mixology scene is at the top of its game too.
Not to mention you can get a nice bottle of Chilean wine at just about any corner store for ~$5, which is hard to beat back home.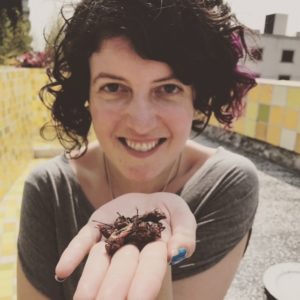 All in all, I will definitely be back here for the food alone. I'm already sad to be leaving so soon, when there are still so many restaurants, bars and street carts I need to explore… Though I'm excited to move along to Colombia next month and try out the food scene there, too!
Whatever you do, though, the next time you're in Mexico City, remember one thing. The tacos are great, the clamatos and micheladas are tasty, but…
You need to try the crickets.
(Trust me, they're a whole lot tastier than they look…)