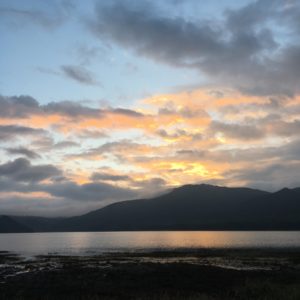 I don't have a lot of practical survival-in-the-wilderness skills, a fact that was never more obvious than on the weekend side-trip a few of us took from Bogotá up to Embalse del Neusa, a beautiful state park nearby.
One of the other Remotes on our trip is actually from Colombia, and she'd been camping here a number of times, so she planned the excursion. It was a great idea—Neusa is beautiful, and a weekend away from the hustle of city life sounded amazing.
After stopping for groceries in Zipaquirá, we squished 12 people (plus all of our camping gear, food, and wood) into a van built for 9, and ventured up into the park. Thanks to a combination of a late start, our grocery run, and a bit of confusion at the park entrance about where we could buy wristbands for camping permits, we didn't arrive until after sunset. That meant pitching tents in the dark—but luckily, a few of my fellow travelers came prepared with headlamps and lanterns, so we did a pretty good job of it.
Our first meal, likewise, went well. Mostly thanks again to my fellow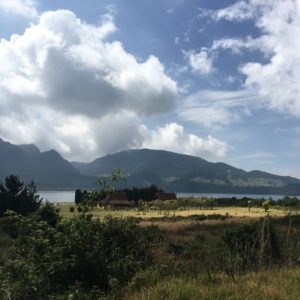 Remotes—between their food-pairing skills and cooking-on-campfire-coals experience, we wound up with delicious fish filets on veggie beds for dinner, with a side of rice that turned out surprisingly well considering it was boiled on an open fire.
Unfortunately, that was the end of our well-planned meals, since while we were all enjoying that dinner, packs of stray dogs ate most of the other food we brought… We managed to salvage a package of hot dogs and some eggs, but that was about it.
Still, we enjoyed ourselves passing rum around the campfire and joking late into the (increasingly chilly) night.
The next morning, we woke up (grumbling) in time to watch the sunrise over the lake next to our campsite. Even with the clouds and mountains between us and the sun, it was a fantastic view.
After that, our morning got a bit more chaotic. It all started with the firewood. We didn't have much to start with, and what we did have was damp from a late-night rainstorm. Combine that with some equally damp firestarters and tricky lighters, and let's just say it took a while to get a breakfast fire going.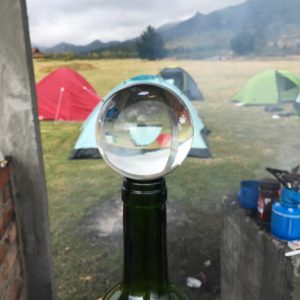 Once we had one roaring, we made do with our remaining food—hot dogs and eggs for everyone! Unfortunately, we didn't realize until after we'd already cooked and eaten most of the hot dogs that they were still tightly seran-wrapped in plastic… So much for a healthy breakfast?
To be honest, though, burnt-plastic covered hot dogs still taste exactly like regular hot dogs. Which was in and of itself a bit concerning…
Fortunately, when half of us campers left for a long morning hike, we discovered that there was actually a restaurant right next to the entrance of the campsite (a restaurant that sells firewood, no less!). We were saved by the home-grilled arepas and the fresh-caught trucha (straight from the lake on which we were camping).
All in all, it was a great weekend, despite the rain, the cold, the dogs stealing all of our food, and the accidental ingestion of burnt plastic. This trip was the first time I really came to appreciate the diversity of experiences and life skills we all bring to this adventure—whatever we needed to figure out, whether it was fire-building or cooking or just the logistics of renting out a campsite, we had people who stepped up to the plate. Plus it's good to know that our group can still have fun (and a lot of laughs) even when the elements are against us.
But I'm definitely going to brush up on my fire-building and tent-pitching skills before I venture into the Colombian wilderness again…