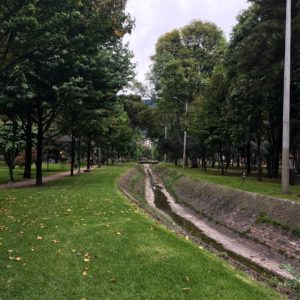 As much as I loved my time in Mexico City, I have to admit that after a month of living there, the pollution was getting noticeable. Every time I left the city, I'd feel my lungs expand and my throat clear (not to mention my sinuses).
So on my first Sunday in Bogotá, a day when the city bans any non-essential cars from the roads (and closes a lot of those roads for bikers and runners to use), breathing was first and foremost in my mind.
Taking a stroll through Virrey, the scenic park right next to my apartment in Bogotá, and gazing up at the mountains in the not-so-distant distance, I realized that this city was exactly what I needed after a month of eating myself silly in Mexico. (It didn't hurt that the first thing I wandered across in the park was a mobile bookstore where a few neighborhood kids were stocking up on their next paperback novel, either.)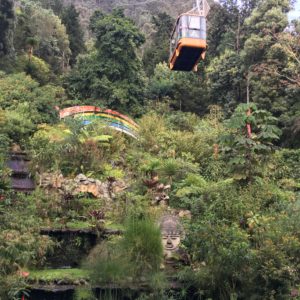 There's nature everywhere here. That first evening, I took a cable car up to Montserrate (not to be confused with the one near Barcelona), the mountaintop shrine that overlooks the whole city, and drank in the view of Bogotá at dusk. It's a sprawling metropolis, boasting only ~400,000 less people than New York City (albeit in over twice the space). Yet everywhere you look, you can find green—tree-lined avenues planted on the busiest streets to absorb the bus fumes, parks carved out in each neighborhood, and of course, the mountains that border it all.
Since then, I've found myself waking up earlier than I ever have in my life. Not only did I volunteer for a 6am hike up to Sendero Quebrada La Vieja, a hike straight up a mountain that starts right in downtown Bogotá and is open every morning, but I actually enjoyed it. We lost both our tour guide and our local friend (a theme that became common throughout my time here), and yet we make it to the peak anyway, enjoying an early morning view of the city. Not only that, but since we'd lost our guide and gone a different route, we found a whole new section of the mountain, a dense pine forest carpeted in needles so thick that it felt like hiking over a trampoline (and through an episode of BBC's Robin Hood).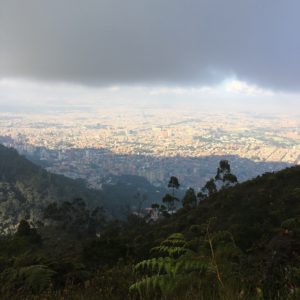 I started waking up early other days, too. Going for early morning runs through the park was a great way to jumpstart my brain for the day of writing ahead. It also, admittedly, turned out to be a pretty good cure for hangovers.
Which was needed after we discovered our new favorite bar night: Gringo Tuesdays at La Villa. The idea is, you come to the bar early for happy hour, join a language exchange table (labeled by flags—we sat at the English tables, since a lot of locals and visitors from around South America went to the club night to practice their English), and chat in the assigned language for a few hours. Then around 9pm, the tables are cleared away and the club night begins.
It doesn't end until 3am, so be prepared for the long haul if you go.
In addition to a new favorite bar, we also found our new favorite game. Only Colombia would think up a backyard game like Tejo, which involves taking a heavy puck-shaped rock and throwing it as hard as you can at a mud-caked target packed with explosives in the center. If you blow up an explosive, you get 3 points. Otherwise, you get 1 point for throwing your tejo closest to center.
It's mostly a countryside game, but you can find places within the city limits like Club de Tejo la 76, where we played. Unlike bowling, you don't pay to book a lane—you pay by buying cases of beer to drink during the game. I'm blaming the beer for how I ended up accidentally hitting 3 of my fellow travelers with the tejo rock…
All in all, we had a great first week in Bogotá, and a much-needed slow-down after the hectic pace of life in Mexico City. More on my Bogotá adventures soon, but if you're impatient, I keep a much more up-to-date record of the goings-on running over on my Instagram page. Give me a shout over there!