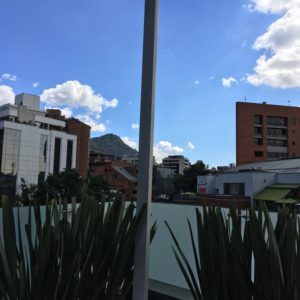 I realize it's starting to sound like all I do is adventure. That's about 50% true (okay, maybe 60%). But I'm still working on this trip, and week 4 in Bogotá I really had to buckle down and get some things accomplished (exciting news there, actually—but I will post more about that when I can talk about it publicly!).
Luckily, we had plenty of good working options throughout the city. Remote Year booked two different Work & Go offices for us, since we were too large a group to fit into a single office here. We had spaces at their larger office up in Chico Norte, a cute neighborhood with lots of cafes and restaurants nearby, as well as a smaller office located right in Zona T, the heart of the bar-hopping and shopping district of northern Bogotá. The smaller one also featured an amazing rooftop view, as an added bonus.
But pretty often, we moved beyond our work spaces this month, discovering more than a few adorable cafes with delicious food and workable Wi-Fi connections.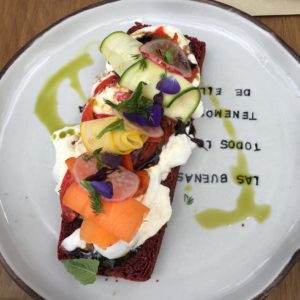 Canasto Picnic Bistro was my personal favorite, a charming white-awning-ed restaurant just off of Park Virrey, which definitely lived up to its name in its picnic-esque vibes. After missing New York's plethora of brunch options, it was refreshing to be able to hole up at Canasto and devour their variety of quinoa/egg dishes while getting some real writing done. (Their bruschetta was also to-die-for level delicious.) Not to mention, this was the first place in South America where I was served real tea—whole leaf green tea! With a sieve and enough hot water for multiple brews!
Masa, a bit further south in Zona T, also proved to be a great workspace. The service left a little something to be desired (no matter what you ordered, there was always at least one thing wrong with the dish—though it tasted delicious all the same, so I can't complain too much), but the atmosphere and tasty fresh salads couldn't be beat.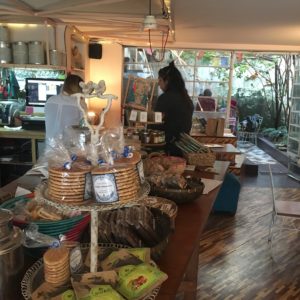 Another exciting find, for me at least, was Taller de Té. This one was a bit farther afield—I had to take an Uber about 30 minutes south to reach it, down near Chapinero. But it was definitely worth the trip. If I'd been excited by Canasto's tea offerings, just imagine how much more thrilled I was to find a whole selection of teas, from oolongs to green and white varietals, some mixed with fruits or herbs (sorry Shunan), and others just pure tea.
My last week in Bogotá wasn't all business—we made some time one night to play an escape room at Trap in Palermo. We escaped with time to spare, though not without having to call for a clue, alas. Still, I had a lot of fun solving puzzles with my new friends!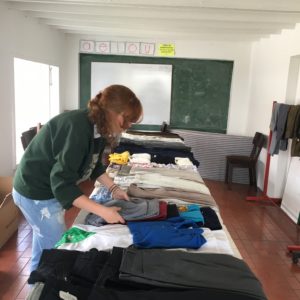 I also volunteered at Fundación Jeymar, an elderly care center, one day that week. Our group makes an effort to organize volunteer efforts in each city we visit, something I appreciate (though of course, when you are traveling and volunteering, you have to be very careful to avoid just falling into the "poverty tourism" trap—winding up in situations where you aren't helping and may even be doing more harm than good to the local economy).
This particular volunteer day really did feel like a good choice. We went early to set up a "store" created from clothing, home goods and hygiene supplies that had been donated to the care center—laying out the items in a coherent, easy-to-browse way that meant people wouldn't need to dig through garbage bags or heaped bins of donated items to find what they needed.
But the best part came when we got to interact with the elderly folks who attended the day center. We brought birthday cakes to help them celebrate the February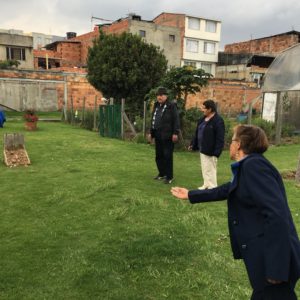 birthdays, sang Happy Birthday in Spanish together (and taught them the English version), played tejo (the old people kicked my ass), a local ring-toss game, and a backyard version of bowling.
None of them seemed to mind that only half of us spoke Spanish, and that brokenly. I had a great conversation with one woman, who told me all about her four daughters (and her ex-husband, who left her because he wanted a son, remarried, and wound up with three more daughters—we agreed she was better off without him now).
Another woman gave me plenty of unsolicited dating advice ("Get married and have babies already," she said, which was only mildly terrifying, though at least she followed it up with a caveat: "But make sure you marry someone at your level. Otherwise you'll either feel left behind, or like you're dragging him through life all the time.").
Not to mention, most of the women enjoyed shouting flirty remarks at the few guys in our volunteer group…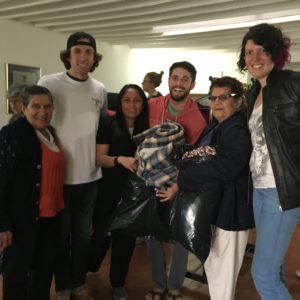 It felt like a fitting end to our month in Bogotá—a way to get to know another generation of locals. Everyone we met there was proud of their country, their city, and the advances that both have made in recent years.
By the end of the week, though, as much as I enjoyed my time in Bogotá, I was ready to move on to Medellin and start exploring another facet of this fascinating, surprising country.
I didn't know much about Colombia coming into this trip, but somehow it finds a way to surprise me every day with the diversity of experiences, cities, nature and ways of life here.
On to the next stop!