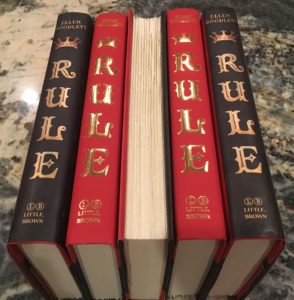 Holy crap you guys.
So this year has FLOWN by, and somehow (I suspect time portals were involved) it's already September, which means that as of my writing this, in just 5 days, Rule is going to be on shelves. (Side note: this also means Amazon is offering a pre-order discount for these next few days—32% off hardcover!)
AHHHH.
To say I'm freaking out is an understatement. My (10+ year) path to publication has been a roller coaster to say the least, and even this year, which contains a lot of highs, has come with its own unanticipated challenges.
But, while I do want to talk about those at some point, especially with the discussions that have come up lately on YA Book Twitter(TM) about transparency (something I do think the book world needs more of), I want to just take a post to share SOME NEWS. Because STUFF IS HAPPENING, all of which I'm super excited about. I feel really ridiculously grateful to be where I am right now.
So, without further ado, some EPIC STUFF:
Thing #1: Rule and its sequel are going to be published in Spanish, French and Portuguese (in Brazil)!
YOU GUYS I am sooo excited about this. It's a HUGE deal to get a book translated into another language (let alone 3!!), and I'm beyond ecstatic. The linguistics nerd in me is really looking forward to this—translation is an art form in and of itself, since lots of phrases/words don't directly translate from one language to another. You have to take the essence of a sentence/word/turn-of-phrase and then recreate it in another language which is some mind-boggling magic, IMHO (that's right, translators = wizards, spread the word).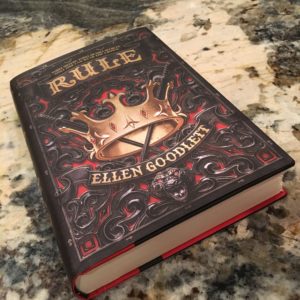 Thing #2: Book 2 is turned in!
And phew, if I thought Rule had a tight turnaround timeline, I was NOT PREPARED for this.
Mix a healthy dose of sophomore book anxiety with the need to tie up a million loose ends in a plot line you can't change anymore (since the first book is already out there in the world), and add a few gallons of desperate desire to do book 1 justice, and yup, not gonna lie, writing this sequel nearly broke me.
BUT IT'S DONE, and I'm loving how it turned out. In retrospect, I am really glad we pushed to finish it so quickly. Even if it was difficult, the last thing I'd want to do is leave readers cliff-hanging for too long. (See, I do have a heart! … Maybe…)
Thing #3: Reviews have been mostly positive!
Publishers Weekly wrote a really nice feature, and even Kirkus wasn't too hard on Rule (plus, they make a good point that I wish I had considered sooner in the writing process about the blood magic system and how it may be triggering with regards to self-harm).
Professional reviews aside, it has been overwhelmingly cool to see people reading the galley copies and reacting to it, experiencing the world and the characters. When I was in high school, whenever we had long bus rides for marching band/football games/field trips, I used to pass around a printed-out copy of whatever novel I was currently working on* and then sit reading along in my own copy. I lived for those moments. Every time someone new read my book, it felt like I was living the story all over again, but with fresh eyes, because the story had grown. The world I wrote had expanded to include the readers, too.
This feels like that, times about a million. Inner High School Ellen is freaking. out.
Thing #4: I'm having a launch party!
If you're in the NY area, I'd love to celebrate Rule's book birthday with you!
Stop by WORD Brooklyn on Wednesday, September 12th from 7:30-8:30PM to see me and the peerless Zoraida Cordova talk about all things books. And speaking of books—if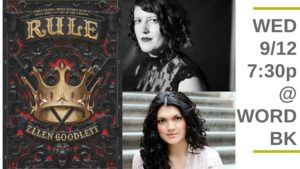 you like young adult fantasy with complex, badass heroines, dangerous magic, and a vividly-drawn alternate NY, you haaaave to read her Brooklyn Brujas series. I was already in love with the first book, Labyrinth Lost, but the sequel Bruja Born was stay-up-all-night addictive.
If that's not enough to entice you, there will also be snacks (including some vegan-friendly ones), tea and Rule-themed hummus. Also wine if you're so inclined.**
Thing #5: I'm going to New York Comic Con!***
For anyone attending NYCC this year, I'll be on the "All the Feels" panel (Saturday October 6th from 2:45-3:45PM), talking about what makes us feel so deeply for characters, especially in a world where many of us are experiencing emotional exhaustion from daily life.
Come for the conversation! Stay for watching me speak publicly for the first time since participating in a high school science fair.****
Lastly
Thank you all for reading/supporting/commiserating/celebrating. You're the best.
<3
* written by hand and then typed up in my dad's home office on our lone desktop computer DON'T MIND ME JUST DATING MYSELF
** and of age, because #laws
*** at this point Inner High School Ellen has just fainted, she's out cold over there on the floor, don't mind her
**** cue nervous laughter